£9,600 Revenue, £964 Spent In Month 1

"Expose Profits have achieved way above what I was expecting them to achieve in our first month of working together. They have managed to more than double our turnover which is an amazing result" – Tom, Director
Bespoke Finishings are a small family-run business in Leicester that sprays kitchens, uPVC windows and doors.
They have nearly 1,000 followers on Facebook and an excellent 5 star reputation online.

THE CLIENT
Bespoke Finishings
INDUSTRY
uPVC and Kitchen Spraying
THE CHALLENGE
Generate consistent, good quality leads.
THE SOLUTION
Google Ads, custom landing pages.
THE RESULTS
41 leads,  £964 ad spend, £9,600 revenue in month 1.
Tom from Bespoke Finishings found us through one of our outbound marketing campaigns and after a quick chat via WhatsApp to see if they would be a good fit for our services, we set up a call to find out more about his business.
After moving into a bigger workshop, Tom wanted to generate consistent, good-quality leads for both uPVC and kitchen spraying to grow his business.
He had tried Facebook Ads recently but didn't get very good results. Their campaigns did generate leads, however, the quality wasn't very good and he got a lot of people just looking for an estimate.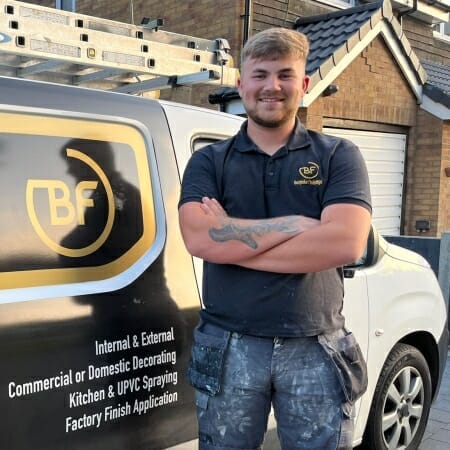 We suggested starting with Google Ads to generate leads initially, because through past experience in this industry, we know the quality of leads from Google Ads is a lot higher than on Facebook.
We created a forecast for the areas that Tom wanted to target and the search volume for his target market was healthy. And with our prior experience, we were confident we could hit our click-to-lead conversion rate targets.
Once Tom had accepted our proposal, our onboarding process kicked off to get all the required information from Tom that we needed to set up their campaigns.
We then proceeded to carry out competitor research in the target geographical areas so we could build up a picture of the competition and their offers.
2 landing pages were then created (one for uPVC spraying, one for kitchen spraying) along with the rest of the campaign setup like target keywords, ads, assets and optimised campaign settings.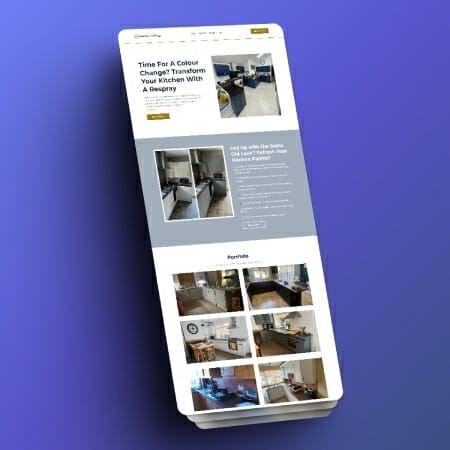 We also set them up in our; Client Portal, Lead Tracking Portal, Click Fraud Detection System and Review Management System.
The whole setup and onboarding process run very smoothly and took seven days. Once Tom signed everything off, we went live.
As part of the setup, we also reviewed Bespoke Finishing's main website and sent a video to Tom highlighting areas that could be improved to increase the number of leads he gets from organic and social traffic too.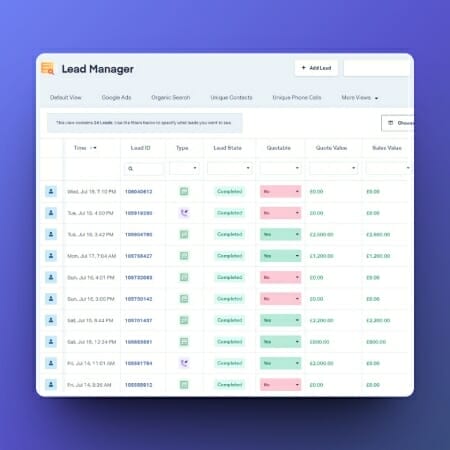 In total after the first month, across both uPVC Spraying and Kitchen Spraying campaigns, we had generated 41 leads, with £964 of ad spend (including the £400 credit from Google) and Tom completed/booked £9,600 worth of spraying jobs.
This gives a Return on Ad Spend (ROAS) of 997%
Conclusion
This was a fantastic start to their ad campaigns. The first few months are usually discovery months with Google Ads campaigns when you get a feel for the market. 
However, because of our prior experience running Google Ads for uPVC and Kitchen Sprayers, we were able to get a huge head start.
Over the coming months, we will continue to tweak and enhance their campaigns to help them exceed their revenue targets and expand their business.
Speaking with Tom after the first month's update he said "it was a brilliant start and he's looking forward to many more months working alongside us". 
Return On Ad Spend (ROAS)
"Expose Profits have achieved way above what I was expecting them to achieve in our first month of working together. They have managed more than double our turnover which is an amazing result. The leads they've generated for us so far have been solid, giving me much more confidence in winning the work. Thank you to Ian and his team for the huge efforts they put into boosting our new leads and helping us hit our goals so we can keep on growing and expanding the business. I look forward to many more months working alongside Ian and his team and would recommend them to anyone in my industry".
Get seen, get leads, grow your spraying business