Adwords New Features Announced – Step Inside Adwords



On Tuesday Google had a much anticipated live webcast about new  features and products they are going to be introducing into Adwords originally announced here.
If you want to watch the full livecast you can see it by clicking the link below:
http://adwords.blogspot.co.uk/2014/04/step-inside-adwords-livestream.html
"It's no longer about devices, it's about connecting people to the content they care about." said Jerry Dischler VP of Product Management, Google Inc. Which might explain why they still haven't brought back mobile only campaigns which I was really hoping for.
Before I dive in, it's worth noting that Larry Kim (Wordstream) recently spoke with Aaron Stein, Google's Global Communications and Public Affairs Manager  and Aaron said…
These features will be entirely optional, unlike last year's mandatory (read: "destructive") Enhanced Campaigns update.
Also, unlike last year's EC update, no existing features are being retired as a result of these new features.
The new features will be rolled out over the course of "several months".
Rather than larger-scale "event launches," deployment of these new features will most likely be done on an incremental, piecemeal basis.
Taken from here: http://www.wordstream.com/blog/ws/2014/04/22/adwords-app-marketing
That was certainly a relief to know.
So without further ado here's my synopsis of what they said…
Mobile App Marketing Ads
Google started their livecast with new features for  their mobile app marketing offering. Jerry said "on Google Play, as of May 2013 they had been  50B+ app downloads of a Million+ apps in over 190 countries. And according to Gartner, last year the mobile app marketplace was worth $29.5 billion.
Google knows this is only going one way that's up and they want to be at the forefront of this industry.
Here's what they've got in store for App Marketers:
New Search and AdMob features coming down the line for app marketers allowing them to serve ads to users based on what apps they use, how often they use them and also what in app purchases they make.
Ads served via YouTube's TrueView platform.
App Deep Linking – . 80% of apps are only used once, so to help with re-engagement adwords will be able to guide the user directly to a particular page within the app, instead of just going to the app's landing page. Thus proving a better user experience and more conversions for the advertiser. This applies to the display network too.
Keyword data available from Google Play
Better Analytics –  you'll be able to measure conversions from the whole app lifecycle from install, usage to re-engagement and even have vision of any in app purchases
Estimated Total Conversions
Nothing new announced here other than a few case studies one of which was a pilot which shown a 102% ROAS for in-store sales.
Intelligent Tools
This for me had some of the most exciting announcements. Google are trying to improve the ability for you to manage your adwords accounts without relying on 3rdparty tools.
Bulk Actions – The ability to make changes to Location targeting or ad rotation for example on multiple campaigns all at once from inside the Adwords interface.
Automated Bidding – They goal is to bring an Enterprise solution to every advertiser directly within Adwords itself, removing the need to use 3rd party tools.
Two more Power Tools were announced by Paul Feng, Director of Product Management, Adwords.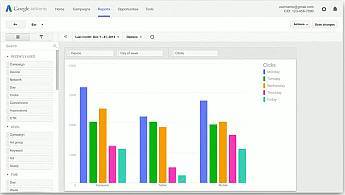 Enhanced Reporting – this looks really cool and will remove the need to use Excel/Pivot Tables and 3rd Party Tools.  The tool has a  drag and drop interface just like Google Anlaytics and uses live data right with the Adwords interface.
Once the required data has been dragged into the tool you can then create fancy looking pie charts and graphics with it. What they didn't disclose was whether they can be exported.
Still very cool though and will save a lot of time exporting and importing into excel or another 3rd party tool.
Drafts and Experiments – another very cool set of features.
Draft mode enables you to make adjustments to your account without actually affecting your live account.
Experiments allows you to take your draft account and send a certain amount of traffic to it which you can then compare the results to your live account to see which has performed the best. These changes can then be easily applied to your actual campaign.
So to conclude, out of all the announcements made I can't wait to get my hands on new enterprise level bidding tool, enhanced reporting and drafts and experiments.
Which ones are you most looking forward to using? Tell us in the comments below…